WHY EMW WOMEN'S SURGICAL CENTER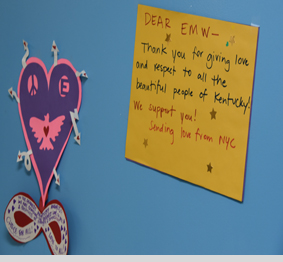 People choose EMW because our trained and experienced staff provide extremely safe medical care in a supportive and non-judgmental environment. After caring for women at the center for over 39 years, we have learned from our patients that they know themselves best and they assist us in understanding their own individual needs and expectations.
We not only respect all women's CHOICES but also know that our patient's needs are unique and that "individualized care", needs to be available for each of them.
EMW Women's Surgical Center is a free-standing, state-of-the-art facility located in downtown Louisville, KY.
Our Center is fully equipped with the latest advancements to provide superior medical services. We are constantly refining and evaluating our delivery of services to ensure the highest standards are met.
Our Staff
We have a dedicated, compassionate and talented team of professionals. Our staff, many having been with us for over 16 years, are distinguished in their knowledge, sensitivity and ability to provide quality care in abortion services. Our staff includes three physicians (MD), R.N.'s, LPN, nurse anesthetists (CRNA), anesthesiologist, medical assistants (MA) surgical technician and office staff who are committed to providing care in an environment of warmth and dignity.
Clinic Director
A social worker with a training certification in marriage and family therapy. She is compassionate and dedicated to each individual patient. She is always available to talk to you before, during and after your visit.
Our Physicians
Board certified obstetrician/gynecologists and are professors at the University of Louisville. Universities trust us to train their medical residents. Our physicians direct a long acting reversible contraceptive (LARC) program to which we can make referrals. IUD's and implants are placed at a very low cost.
Respect, kindness and confidentiality are the cornerstones of the special relationships we share with all our patients. We are humbled by the trust that we receive from the women we meet and it is our privilege to be invited into their lives.
Proud Members
The National Abortion Federation (NAF) link is the primary professional standard-setting and training organization for abortion providers in the United States. The 300 NAF members across the country follow NAF's Clinical Policy Guidelines, which are updated annually to insure your state-of-the art care and medical safety.
Use NAF's provider locator to find a NAF clinic near you.
Convenient Services
We have five surgery days every week, including Saturdays, and can usually work you in for an appointment quickly.